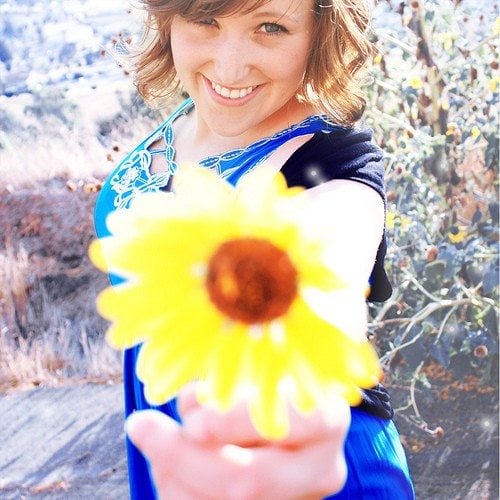 1. Avoiding deep and meaningful connections (like marriage, close friendships, and staying in touch with family)
Ultimately, the human experience is about connecting with other people. Connection is what provides value and meaning to our lives. We're wired for it and research proves just that.
For example, people with strong social ties were found to be healthier and have a lower risk of death. Additionally, it was found that as age increases, the people with stronger social ties tend to live longer. And it seems that friendships can even help you fight cancer.
The benefits of deep relationships extend to marriage as well. Being in a long-term relationship decreases the risk of depression, suicide, and substance abuse. And one study of almost 6,000 peoplefound that marriage led to increased longevity while never marrying was the strongest predictor of premature death.
Finally, multiple studies (here, here, and here) show that strong family ties are one of the primary reasons the people of Okinawa, Japan have incredible longevity despite being one of the poorest prefectures in the country.
What do all of these different studies tell us?
Connection and belonging are essential for a healthy and happy life. Whether it's friendship, marriage, or family — humans need close connections to be healthy.
For more about the connection between loneliness and health, I suggest reading the New York Times best-seller Mind Over Medicine, which was written by my friend Dr. Lissa Rankin.
2. Sitting wrecks our bodies: It can significantly increase risk of cardiovascular disease
You might want to stand up for this. The internet has gone crazy over an infographic that describes the harmful effects of sitting all day.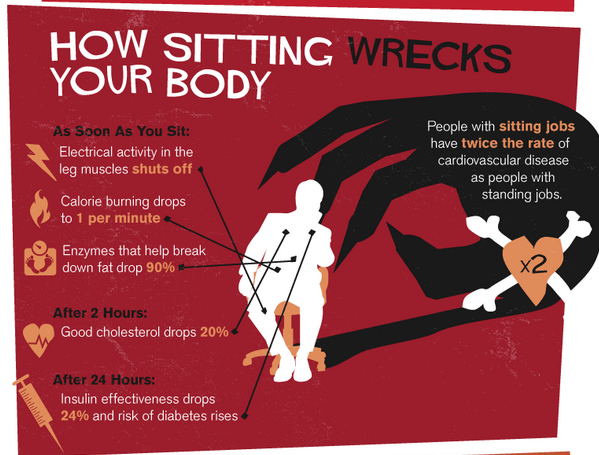 The short version is that "recreational sitting" like sitting in front of a TV screen increases your risk of cardiovascular disease and death, regardless of your physical activity. Obviously, sitting at a desk for work isn't too good either.
This troubling data doesn't come from small sample sizes either. These trends held true in one study with 4,500 people, another with 8,800 people, and a final one with over 240,000 participants. If you're looking for more details on the health risks of sitting, this New York Times article covers some of the basics.
Instead, try getting up and move around, it can be as simple as a quick walk around the desk: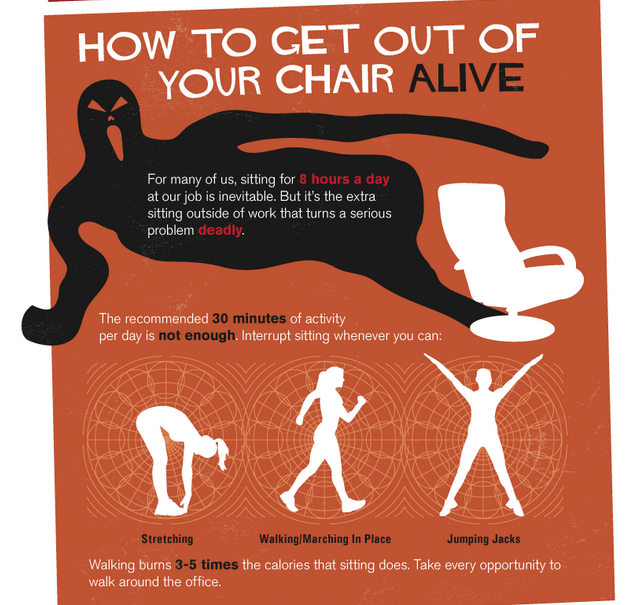 3. Never stopping to just breathe.
A few years ago, I was speaking with a yoga instructor who told me, "I think people love my class because it's the only time in their entire day when they just sit and breathe."
That provides some interesting food for thought. From the time you wake up until the time you go to bed, do you ever take 15 minutes to just sit and breathe? I rarely do. And that's a shame because the benefits of mindfulness and meditation are huge. Meditation reduces stress and anxiety. Meditation improves your quality of life and boost your immune system. Meditation has been shown to decrease anger and improve sleep, even among prison inmates.
It can significantly reduce anxiety to just sit and breathe for as little as 10 minutes every day: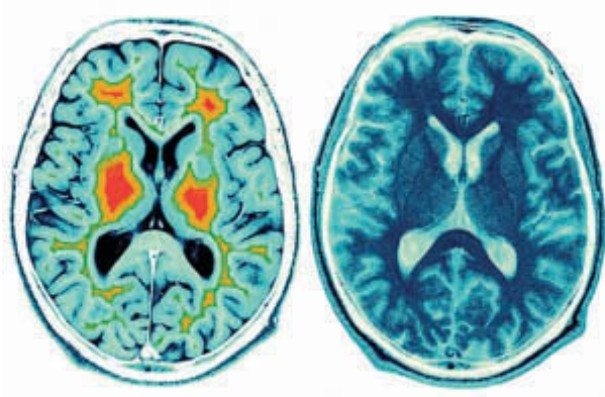 4. Not joining a (spiritual) community
There is an interesting and growing body of medical research that has discovered the positive health effects of religion and spirituality. The science doesn't necessarily say that there is anything inherently healthy about religion, but it's all the by-products that come from practicing religion that can make a big difference.
For example, people with strong faith often release control of their struggles and worries to a higher power, which can help to relieve anxiety and stress. Religious groups also offer a strong source of community and friendships, which is critical for health and happiness. In many cases, the strength of friendships formed with fellow believers can last for decades, and those strong personal ties are crucial for long-term health.
If you don't consider yourself to be a religious person, then the lesson to takeaway from this body of research is that we all need a sense of belonging and community in our lives. It's important to share your beliefs (whatever they happen to be about) with a community of people. People who have a community like that to lean on find themselves happier and healthier than those who lack that type of support. Community provides meaning in many people's lives which according to Victor Frankl is the most important element for happiness.
As a starting point, you can read studies on the religion-health connection here, here, and here.